Please Help Us Support LB563 !
---
"It's not about doing big visible projects, it's learning how and building our capacity to keep our downtown vibrant for the long-term. Having the ongoing support system that both the Nebraska Main Street Network and the National Main Street Center provides helps us stay on task and motivated unlike many of the other programs we've been involved in where well-intentioned people come in, recommend a project or hold a meeting and then leave us to figure things out on our own. The Nebraska Main Street Network is there for us no matter what happens."
--Local Main Street Board Chair
Inspired by the shared belief that people and communities are the lifeblood of our great state, the Nebraska Main Street Network is dedicated to enlivening our downtowns as cultural and economic drivers for the future. The Nebraska Main Street Network partners with communities to transform and revitalize their business districts through educational programming and technical assistance.  Supporting equity and diversity while preserving local history and each community's treasured architecture, we're making history from history!
Cumulative economic impact of Main Street in Nebraska 1994 to 2022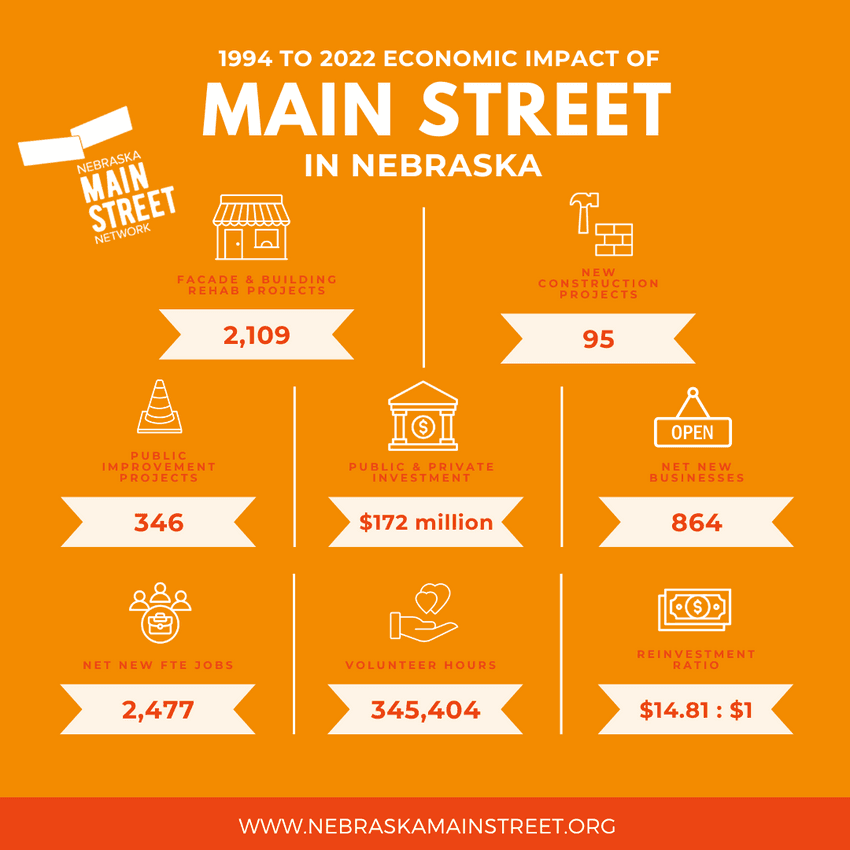 The Main Street program isn't just about visible change, but tangible real change. You can see that in the vibrancy of our entrepreneurs and their businesses, the buildings that have been brought back to life, the public spaces that have been improved, and the sense of place that has been created through the teamwork between volunteers and local governments trained in the Main Street Approach™
Nebraska's Main Street program has been in existence since 1994 established with a grant from the Lied Foundation with partnering state agencies including the Nebraska Department of Economic Development, Nebraska Department of Roads, the Nebraska State Historical Society, and the University of Nebraska College of Architecture. In 2013, the Nebraska Main Street Network, Inc. was established as a non-profit to take over the responsibilities of the program and serve as the state coordinator for Nebraska's nationally accredited Main Street program.
The Main Street program is nationwide and designed to educate communities about place based downtown revitalization using historic preservation as the foundation.  Communities that establish Main Street programs experience increased business and job creation, investment in public and private assets, and a positive energy.  Local Main Street programs leverage their own private investment and capitalize on the unique appeal of traditional commercial business districts for their success.  The result is one of the most powerful economic revitalization strategies in the nation. The Nebraska Main Street Network is dedicated to coordinating resources, providing guidance and education to communities across the state so they have the skills and support to revitalize their traditional commercial business districts.
We provide programming and services to communities including:
Offering official Main Street America designation to communities that apply and meet the criteria

Main Street director orientation and professional development 

Local site visits to help the community develop strategies to tackle comprehensive downtown revitalization and business district management

Design and historic preservation assistance 

Specialized training and information on topics specific to downtown revitalization 

Education about State and Federal programs, public and private sector grants, and loans 

Facilitating partnerships for designated Main Street communities and other business districts

Opportunities for networking and learning between communities
---
What makes Nebraska's Main Street and Network communities successful?  The hard work they put in to learning how to create a stronger sense of place while providing the resources businesses and entrepreneurs need to succeed.  Communities look to the Nebraska Main Street Network to provide the opportunities for guidance and education that help them to help their downtowns.  Show your love for Nebraska's communities by supporting the Nebraska Main Street Network.  Your gift will help us continue to provide meaningful programming to communities statewide!