Upstairs Downtown Workshop Resources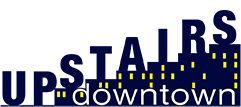 The Nebraska Main Street Network in partnership with the North Platte Historic Preservation Commission, hosted the award-winning Upstairs Downtown workshop in North Platte on May 10-11, 2021.
The workshop was supported by the State Historic Preservation Office of History Nebraska, funded in part with the assistance of a federal historic preservation fund grant from the National Park Service, a division of the United States Department of the Interior and with a grant from the City of North Platte's Quality Growth Fund.
These resources from the workshop are being made available as required by the terms of the grant.
For more information about the Upstairs Downtown program, visit https://www.upstairsdowntown.com/