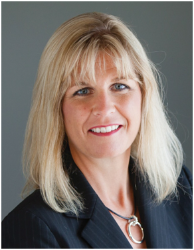 Liz Bavitz, originally from Bridgeport, Nebraska, has lived in Lincoln since 1993.  She is a registered Architect and a Principal Owner of Sinclair Hille Architects.  Liz has over 28 years of professional experience in the architecture field and currently serves as a Project Manager for several projects for the firm.  A graduate of the University of Nebraska-Lincoln College of Architecture, Liz was named a 40 Under 40 Award Winner by the Lincoln Business Journal in 2007.
Volunteering has always been important to Liz.  In addition to serving as Treasurer on the Nebraska Main Street Network Board of Directors, she serves as President-elect of the Nebraska State Historical Society Foundation Board of Directors, has been a commissioner on the City of Lincoln Historic Preservation Commission since 2011, and is a board member for the Child Advocacy Center in Lincoln.  Her past non profit work includes board service on the Food Bank of Lincoln Board of Directors (President 2011-2012), Food Bank of Lincoln Foundation Board of Directors, Friends of Lied Board of Directors (President 2014-2015), and the Jazz in June Advisory Board.  Her committee work in the community includes serving on the City of Lincoln Building Codes Task Force, the City of Lincoln Fire Prevention Bureau Enforcement Committee, and the AIA Nebraska Political Action Committee.  Liz was a member of Leadership Lincoln Class XX and is a current member of the American Institute of Architects.  She acquired her LEED AP certification in 2009.
Married since 2016, Liz and her husband Bruce met through friends and enjoy spending time with their blended family of five, traveling, cooking, and working on their 1928 historic home.  A huge fan of all types of music, Liz loves to listen to The Raw Nerve, an all dentist band from Lincoln of which Bruce is a founding and current member.