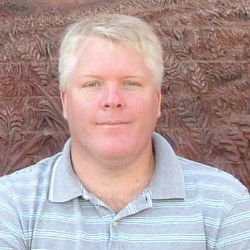 Kurt Mantonya conducts primary research for the Heartland Center for Leadership Development, focusing on ethnographic and anthropological research. He brings experience in Native American and Latino issues, project coordination, collaborative community based planning and the rapid growth of rural communities. His experience also includes working with projects on applied cultural anthropology of the Great Plains, Native American and Latino health care issues and policy analysis. Kurt also designs and presents training programs.
Mr. Mantonya's professional career has revolved around archaeology, anthropology and education for the past 15 years. He taught eighth grade math and science and served as a librarian and coach on the Navajo reservation in northeastern Arizona and also helped initiate a gifted and talented program. As an applied anthropologist, Mr. Mantonya has conducted work nationally and internationally. Some of these projects ranged from social and cultural issues like HIV in rural Nebraska to housing on reservations, the meatpacking industry in the Midwest and natural resource management and kinship systems in rural Mexico. He has also been involved in national and community service projects by directing a large multi-partner Americorps and Americorps*VISTA program for the City of Lincoln, Nebraska.
Mr. Mantonya has contributed numerous articles and encyclopedia entries for anthropological publications and has presented to many scholarly and professional societies. He is currently a fellow of the Society for Applied Anthropology and also serves on the American Indian Issues subcommittee, past board member of the Community Development Society and recipient of the Donald Littrell new professional award from the CDS.  He received a B.S. in sociology from Kansas State University in 1994 and a Master's of Arts degree from the University of Nebraska-Lincoln in 2002.