Nebraska Main Street Network Board of Directors
Executive Committee
Jeffrey B. Ray, Chair, Elkhorn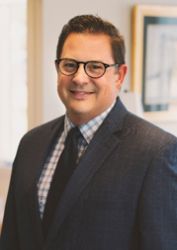 Jeffrey B. Ray, AICP, currently serves as the Planning Department Manager for JEO Consulting Group, Inc. based in the company's Omaha office. His role within the planning department concentrates on continued development of services to municipal, county and regional entities for comprehensive plans, zoning and subdivision regulations, downtown revitalization plans, master planning, redevelopment plans and quality control.
Prior to joining JEO, he served as the Community Development Director for the City of Fremont, Nebraska where he developed and monitored the department budget, administered the Planning Commission and Board of Adjustments, and assisted with downtown improvements and economic development projects. Jeff was also involved in facilitating updates to the City's Comprehensive Plan and Community Branding projects.
He has more than 25 years of management and planning experience developing solutions on a wide range of projects throughout the Midwest and California. His previous professional experience includes planning manager for the 415-acre Universal Studios site located in Los Angeles, the LAX Master Plan, and Sacramento's Delta Shores mixed use project, just to name a few.
Jeff points to June 3, 1980, the day seven tornadoes destroyed much of Grand Island including his home and school as the inspiration to his career.  He received his Master of Community and Regional Planning and Bachelor of Architectural Science from the University of Nebraska. He is certified with the American Institute of Certified Planners, is the Past President of the Metro Chapter of the Nebraska Planning and Zoning Association and serves on the Sarpy County Economic Development Council.
---
Melissa Dirr Gengler, Secretary, Lincoln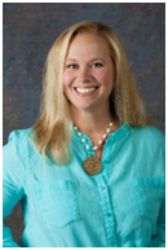 Melissa Dirr Gengler is the owner and President of Historic Resources Group, Inc. (HRG). She has called Lincoln home for the last 20 years and is active in the historic preservation community throughout the region.  Melissa has 25 years' experience in the field of historic preservation. She has spent extensive time conducting surveys and evaluations of historic buildings across the Midwest Region. Prior to establishing HRG Melissa worked for the State Historic Preservation Office in Nebraska and in South Dakota. Her professional background in both the public and private sector provides a broad base of knowledge and skills to identify, evaluate, and document historic properties and understand the needs of large and complex projects.
Since its inception in May of 2010 HRG has been actively growing as a respected full-service cultural resource management and historic preservation company.  HRG is a federally certified woman owned small business enterprise (WOSB), a certified disadvantaged business enterprise (DBE) and is located in Lincoln, Nebraska.  Melissa is an active volunteer serving on the City of Lincoln Historic Preservation Commission, the board of the Association for Preservation Technology-Central Plains Chapter, and volunteering with many activities through her church and her son's school activities.
---
Steve Miller, Treasurer, Lincoln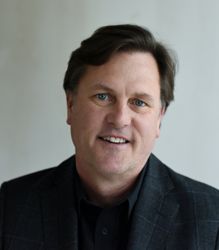 Steve Miller, AICP is a city planner with The Clark Enersen Partners in Lincoln.  He has worked for 30 years in the architecture, engineering and planning industry in a wide variety of jobs for several different firms and local government organizations.  Steve's passion for community engagement led him to specialize in facilitating citizen and stakeholder engagement processes for engineering, environmental, community development and urban design projects ranging in scale from neighborhoods to multi-state regions.  Steve was one of the founders of an innovative, online community engagement company that worked with cities and design firms across the United States, Canada and Australia.
Steve has served the state and the Lincoln community on the Board of Directors for City Impact, Leadership Lincoln, and was one of the original members of the Nebraska Main Street Network board. He also is a member of the Lincoln Board of Zoning adjustment, and served on the City of Lincoln Open Data/Open Governance Committee and the Lincoln Fire & Rescue Citizens Advisory Committee.
Steve earned a bachelor's degree in Political Science from the University of Nebraska – Lincoln and a master's degree in Urban Planning from the University of Kansas.
---
At-Large Board Members
Renae Brandt, North Platte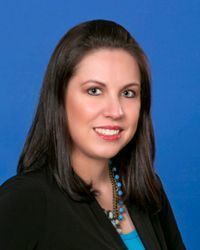 A native of North Platte, Nebraska Renae Brandt earned her Bachelor's in Business Administration from Chadron State College.  She has worked as an Office Manager for the past 6 years.  She has assisted with many revitalization projects in Downtown North Platte.  Some of the projects she is most proud of are the remodel of two historic buildings, a petition to inspect the Hotel Pawnee, and the 2019 Downtown Street Improvement Project.
Renae is a supporter of small business and historic preservation.  She enjoys volunteering to educate others on the importance downtowns have on community pride and growth. In 2018, she was honored to receive "The Women of Achievement Award" and "The North Platte Young Professional Award" in recognition for her efforts to preserve a local historic landmark.
---
Cami Gregerson, Tekamah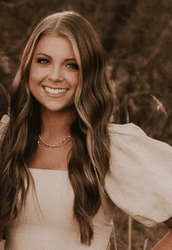 Cami Gregerson currently serves as the President of the Tekamah Chamber of Commerce after serving as Vice-President. She is currently the Sales, Marketing, and Accounting Manager for Gregerson Farms and Gregerson Seed - Dekalb & Asgrow while also working for the Tekamah-Herman Public Schools as a substitute teacher and assistant Volleyball Coach at Tekamah-Herman High School. She was previously an Event Producer at planit. inc. traveling around the globe planning and producing events anywhere from 10-4,000 attendees. 
Cami earned a bachelor's degree in Marketing and Management, with an emphasis in Advertising and Public Relations, from the University of Nebraska - Lincoln. She was born and raised in Lincoln, NE and although she grew up in a big city, she has always had a love and passion for agriculture and small-town living. She met her husband in college and moved back to his hometown of Tekamah in 2017. They have one beautiful daughter, Chloe 1.5 years old, and their second daughter is due April 2023. Cami and her husband love to golf, travel, cheer on the Kansas City Chiefs, and spend time with family and friends in the community.
---
Frank Ordia, Lincoln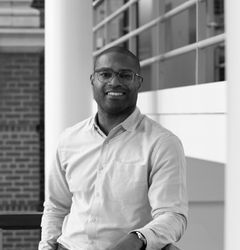 Frank Ordia is a Lecturer of Architecture at the University of Nebraska-Lincoln, beginning in the Fall of 2019. He explores how real estate, policy, and the history of places influence one another in the built environment. Frank teaches courses in Historic Preservation, Real Estate Development, and Planning. Before his time at UNL, he was formerly co-Principal of the Austin, Texas-based preservation, planning, and policy firm, Stewardship Strategies. At UNL he leads his students in projects that collaborate with governments and non-profits to explore solutions with public policy and different design approaches. Frank is a graduate of Baylor University and the University of Texas at Austin where he received his MSHP degree. Frank continues to study the impact of historic preservation tax incentives at the federal, state, and local levels and how historic preservation policy can be a more effective component in the development of cities. As a consultant, Frank has extensive experience working with communities at all scales assisting communities on matters of historic preservation and economic development. Frank serves on several organizations including the State Historic Preservation Review Board, Preservation Association of Lincoln, and the Southeast Nebraska Development District.
---
Ashley Peterson, Lincoln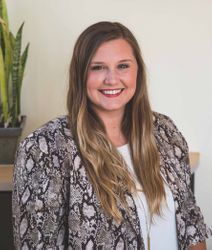 Ashley Peterson is the Marketing Coordinator for a sports software company called, ScoreVision. As a board member, she lends her creative strategy, promotion, and marketing skills to build visibility and awareness of Nebraska Main Street Network initiatives. Prior to her experience with ScoreVision, she served as an architectural associate for a firm specializing in historic preservation called Architexas. Her passion for historic preservation and community engagement fuels her desire to help revitalize the main streets of rural communities in Nebraska. Ashley's energetic personality and knowledge of the architectural industry provide the ability to develop relationships with businesses and support their desire to further their reach.
Ashley graduated from the University of Nebraska-Lincoln with a Bachelor of Science in Design - Architecture in 2019 and has served on the board for over a year. She hopes to continue building strong relationships and preserving foundational structures that contribute to the history of our great state.
---
Luke Virgil, Wayne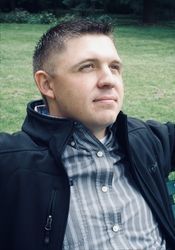 Luke Virgil has been the Executive Director at Wayne Area Economic Development (WAED) since 2017 but has been working in economic development since 2012. Since starting at WAED, he has championed quality childcare, affordable housing, and reliable broadband access as strategies to attract talent and help rural Nebraska thrive. During his tenure at WAED, the organization has emphasized of tourism in Wayne and supported tourism-related business development and activities throughout the community. Virgil is a graduate of the Nebraska State Chamber's Leadership Nebraska Program (Class IX) and is the co-chair of their Alumni Advisory Council. He participated in the Sherwood Foundation's Community Catalyst Program (Cohort 15) and serves on various boards and committees in Wayne and Northeast Nebraska. Virgil grew up near Wahoo, NE and received his B.S. in Political Science at Wayne State College. He and his wife, Megan, have an 8-year-old son, Brody, and a 5-year-old daughter, Brynn.
---
Emeritus Board Members
Kevin Andersen, Omaha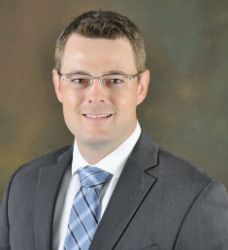 Kevin Andersen currently works with the City of Omaha as Deputy Chief of Staff for Economic Development and Development Services in Mayor Jean Stothert's administration.  Previously, Kevin has worked as a planning consultant for JEO Consulting Group in Omaha. His experience also includes the Nebraska Department of Economic Development where he worked on strategies for workforce development, downtown revitalization, community and business development and public facilities projects. He has served as President of the Nebraska Planning and Zoning Association-Metro Chapter, is a member of the Nebraska Main Street Network Board of Directors, and has served on the Heritage Nebraska Board of Directors. Andersen has a Bachelor of Business Administration from the University of Nebraska-Lincoln and is a candidate for a Master of Community and Regional Planning degree at UNL.
---
Ex-Officio Board Members
Betty Gillespie, Nebraska State Historic Preservation Office (SHPO)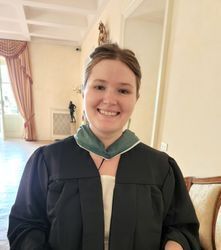 Betty Gillespie is the interim Deputy State Historic Preservation Officer for the State of Nebraska. Her office and staff operate under the auspices of History Nebraska, which was formerly knowns as the Nebraska State Historical Society. During her tenure with the State Historic Preservation Office, she has and continues to be the Section 106 Review and Compliance Coordinator for standing structures working with communities on CDBG projects and organizations on larger state wide undertakings. She has also helped formulate new preservation programs and organized and launch the Rural Nebraska Historic Preservation grant. She studied Art History and International Relations at Creighton University and received her Master's in Sustainable Cultural Heritage from The American University of Rome.
---
Dave Honz, Nebraska Department of Economic Development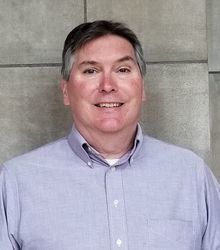 Dave Honz is an Economic Development Manager at the Nebraska Department of Economic Development (DED) and is with the Field Service Team as a Business Development Representative for Southeast Nebraska. He has held a number of positions since joining DED in 1989; working with businesses, communities, development organizations, and individuals to improve Nebraska. He works with Federal, State, and local resources to plan and invest in community and economic development projects across the state. Prior to joining DED, he worked for the Southern Iowa Council of Governments as a Planner, where he operated a Revolving Loan Fund for business financing, prepared strategic plans for communities, wrote and administered grants from various agencies.
Dave is a native of Omaha and lives in Lincoln with his wife and two children. He graduated from Northwest Missouri State University with a Bachelor of Science degree in Geography, minor in Economics.
---
Staff
Elizabeth Chase, Executive Director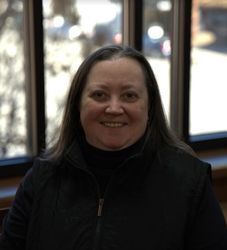 A native of Lincoln, Nebraska Elizabeth Chase has been with the Nebraska Main Street Program since 1997. She holds an undergraduate degree in Art History and a Master of Community and Regional Planning degree from the University of Nebraska-Lincoln with extensive focus on historic preservation and downtown revitalization.  As an undergraduate, she spent part of her senior year as an intern with the Main Street Program in Oskaloosa, Iowa. She also served on the board of directors of the Preservation Association of Lincoln while in college.
As executive director of the Nebraska Main Street Network, she is responsible for administration and coordinating the delivery of community specific technical assistance and training in the areas of economic vitality, design and historic preservation, promotion, and organization to communities statewide.  Elizabeth has written several National Register Nominations and has provided assistance on other preservation projects throughout Nebraska. Connected to the National Main Street Network for many years, Elizabeth works regularly with the Main Street communities in Oakland County, Michigan and served two terms on the National Main Street Coordinator Leadership Council.  She was a guest lecturer in the Robert R. Taylor School of Architecture and Construction Science at Tuskegee University in Alabama in the fall of 2015. 
In addition to her work in preservation and Main Street, Elizabeth serves as the executive secretary for the Mari Sandoz Heritage Society and is an officer on the executive board for the University of Nebraska Band Alumni Association. In her free time she plays golf, enjoys travel and spending time with family and friends.